A Bakersfield Limo
For Your Baby's First Ride
---

Baby's first ride home?
How about a ride in a Bakersfield limo with your newborn, the new mother, and the whole family?
There are many great reasons to rent a Bakersfield limo like your prom, your wedding, your graduation, special parties and events.  We supply limousines for all those events.
But nothing is as special as riding in the backseat of a luxurious limousine with your baby and other family members for your baby's first ride home.
Give Us A Call For Your Free Quote...
...Or Fill Out The Form Below.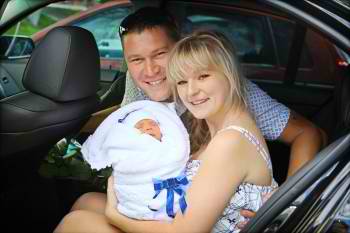 ---
---
Imagine the photos and memories you'll make during that first ride home in a limousine. A few years from now your baby will thank you.
Having a baby is a blessing for many people as they recognize that their baby is a gift from God. As loving parents, you'll want to go out of your way to make your baby's life in the world a memorable experience.
You also want to make everything perfect when welcoming your baby home for the very first time.
You'll want to focus on making your baby's entry into your home a grand one. You can do so by hiring a limousine to roll your baby from the hospital to your home.
We offer...
A Huge Fleet of pristine vehicles including Town Cars, stretch limos, Hummers, and Party Buses.
Professional chauffeurs. Expertly and diligently trained in service and safety.
Multi-Hour Discounts: The more hours you book, the less each hour costs.
Complimentary drinks. Choose from soft drinks, water, wine, or beer.
Prompt service. We take pride in arriving on time, holding your door, assisting with baggage and other items, and treating you like royalty.
Satisfaction Is Guaranteed.
Bakersfield Limo For Your Newborn
The key benefits you can expect from hiring a limousine for your baby's first visit home are...
1.  Makes it memorable. First and foremost, when you hire a Bakersfield limousine to cruise your baby from the hospital to your home, it will surely turn out to be one of the most memorable events of your life.
2.  Makes your new one feel loved and appreciated.  Not NOW of course, but when your baby grows into a young adolescent and looks at those photos and listens to those stories he or she will most certainly feel special.
3.  Comfort. The limousine is one of the most comfortable cars you can get your hands on. Plenty of elbow room for the whole family.  And if this is your first time fumbling with a baby seat, we'll happily help you get it secured.  Just sit back with your new one while we escort you in comfort to your baby's new home.
4.  Ultimate Safety. Our drivers are diligently trained in service and driving safety. Make your baby's first ride home super safe while our expert drivers get you home. Meanwhile, YOU worry about getting the best pics of baby, mother, and family.  You never want to forget this day.
It's a beautiful site, your newborn in a Bakersfield limo.


Booking Your Bakersfield Limo
Many people think that hiring a limousine can be really expensive, but we have many limo packages available to reduce the expense.
Give us a try! Let us prove our professionalism and superb service.
Don't wait til the last minute. Call as soon as you know the date and time you're leaving the hospital. We'll pick you up, hold doors for you, assist you with the baby seat, and offer complimentary drinks for the ride home.
Give Us A Call For Your Free Quote...
...Or Fill Out The Form Above.